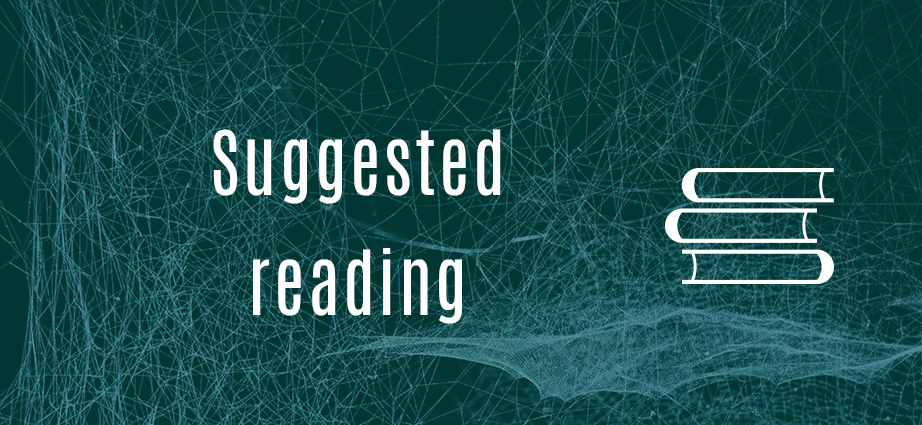 This section contains some of the communication materials produced by ECA members.
I. KEY IPBES PUBLICATIONS
II. GUIDANCE DOCUMENTS & TOOLS
III. MEETINGS & EVENTS REPORTS
IV. OTHER DOCUMENTS
V. SCIENTIFIC ARTICLES
Pervasive human-driven decline of life on Earth points to the need for transformative change in: Science (Dec 2019)
---
Disentangling 'exosystem services' and 'nature's contributions to people' in: Ecosystems and People (Oct 2019)
---
Key knowledge gaps to achieve global sustainability goals. In: Nature Sustainability (Oct 2019).
---
Intersectional boundary work in socializing new experts. The case of IPBES in: Ecosystems and People
---
Merging social equity and conservation goals in IPBES in: Conservation Biology (Feb 2019)
---
Biodiversity: ideas need time to mature in: Nature (Sep 2018)
---
Biodiversity needs more voices in: Nature (Aug 2018)
---
The battle for the soul of biodiversity in: Nature (Aug 2018)
---
Welcoming different perspectives in IPBES: "Nature's contributions to people" and "Ecosystem services" in: Ecology and Society (Mar 2018) 
---
Diaz, S. et al (2018). Assessing nature's contributions to people. Science, 19 Jan 2018, Vol 359, Issue 6373, pp. 270-272. DOI: 10.1126/science.aap8826.
---
Five reasons why the Science publication ''Assessing nature's contributions to people" (Diaz et al. 2018) would not have been accepted in Ecosystem Services in: Ecosystem Services (Apr 2018)
---
Pascual, U. et al (2017). Valuing nature's contributions to people: the IPBES approach. Current Opinions in Environmental Sustainability. Volumes 26-27, June 2017, Pages 7-16.
---
Oubenal, M. et al (2016). IPBES, an inclusive institution? Challenging the integration of stakeholders in a science-policy interface. Ecology and Society 22(1):11. 
---
Stenseke, M. (2016). The Intergovernmental Science-Policy Platform on Biodiversity and Ecosystem Services and the challenge of integrating social sciences and humanities. Bulletin of Geography. Socio-economics Series. N° 33 (2016): 119-129.
---
Reuter, K., Timpte, M. & Neßhöver, C. (2016). Disciplinary balance: How to engage social scientists in IPBES. Nature 531, 173.
---
Vadrot A. B. M., Jetzkowitz J. & Stringer L. C. (2016). Social sciences: IPBES disciplinary gaps still gaping. Nature 539, 160.
---
DeClerk, F. (2016). IPBES: Biodiversity central to food security. Nature 531, 305.
---
Dicks, L.V. (2016). Ten policies for pollinators. Science. Vol 354, Issue 6315.
---
Montana, J., Borie, M. (2015). IPBES and biodiversity expertise: Regional, gender and disciplinary balance in the composition of the interim and 2015 Multidisciplinary Expert Panel. Conservation Letters. DOI: 10.1111/conl.12192.
---
Díaz, S., Demissew, S., Carabias, J., et al. (2015). The IPBES Conceptual Framework - connecting nature and people. Current Opinion in Environmental Sustainability, 14, 1-16.
---
Vohland, K. & Nadim, T. (2015). Ensuring the success of IPBES: between interface, market place and parliament. Philos Trans R Soc Lond B Biol Sci: 2015 Feb 19; 370(1662): 20140012. DOI: 10.1098/rstb.2014.0013.
---
Heink, U.; Marquard, E.; Heubach, K.; Jax, K., Kugel, C.; Nesshöver, C.; Neumann, R.K.; Paulsch, A.; Tilch, S.; Timaeus, J. & Vandewalle, M. (2015): Conceptualizing credibility, relevance and legitimacy for evaluating the effectiveness of science–policy interfaces: Challenges and opportunities. Science and Public Policy (forthcoming). DOI: 10.1093/scipol/scu082.
---
Hochkirch, A., McGowan, P.J.K. & van der Sluijs, J. (2014). 'Publishing: Biodiversity reports need author rules'. Nature, 516, 170-170.
---
Brooks, T. M., J. F. Lamoreux & J. Soberón (2014). IPBES ≠ IPCC. Trends in Ecology & Evolution 29: 543–545. →Publication
---
Vadrot, A. B. M. (2014). The Politics of Knowledge and Global Biodiversity. Routledge, London.
---
Beck, S., M. Borie, J. Chilvers, A. Esguerra, K. Heubach, M. Hulme, R. Lidskog, E. Lövbrand, E. Marquard, C. Miller, T. Nadim, C. Neßhöver, J. Settele, E. Turnhout, E. Vasileiadou & C. Görg (2014). Towards a reflexive turn in the governance of global environmental expertise - the cases of the IPCC and the IPBES. GAIA 23:80-87. →Publication
---
Heubach, K., E. Marquard & C. Neßhöver (2014). The Intergovernmental Platform on Biodiversity and Ecosystem Services (IPBES) – Historie, Status nach IPBES-1 und Trends. In: U. Feit & H. Korn (Hrsg.). BfN-Skripten 370: Treffpunkt Biologische Vielfalt XIII. BfN, Bonn. S. 9-15. →Publication (in German)
---
Duraiappah, A. K., S. T. Asah, E. S. Brondizio, N. Kosoy, P. J. O'Farrell, A. H. Prieur-Richard, S. M. Subramanian & K. Takeuchi (2014). Managing the mismatches to provide ecosystem services for human well-being: a conceptual framework for understanding the New Commons. Current Opinion in Environmental Sustainability 7:94-100. →Publication
---
Hotes, S. & L. Opgenoorth (2014). Trust and Control at the Science-Policy Interface in IPBES. Bioscience 64:277-278. →Publication(Point of vue)
---
Joly, C. A. (2014). The conceptual framework of the Intergovernmental Platform on Biodiversity and Ecosystem Services / IPBES. Biota Neotropica 14:1-2. →Publication (Editorial)
---
Opgenoorth, L., S. Hotes & H. Mooney (2014). Biodiversity panel should play by rules. Nature 506:159-159. →Publication(Correspondence)
---
Turnhout, E., K. Neves & E. de Lijster (2014). 'Measurementality' in biodiversity governance: knowledge, transparency, and the Intergovernmental Science-Policy Platform on Biodiversity and Ecosytem Services (IPBES). Environment and Planning A 46:581-597. →Publication
---
Brand, U. & A. B. M. Vadrot (2013). Epistemic Selectivities and the Valorisation of Nature: The Cases of the Nagoya Protocol and the Intergovernmental Science-Policy Platform for Biodiversity and Ecosystem Services (IPBES). Law, Environment and Development Journal 9:202-220. →Publication
---
Joly, C. A. (2013). The expected role of IPBES. Biota Neotropica 13. (Editorial)
---
Opgenoorth, L. & D. P. Faith (2013). The Intergovernmental Science-Policy Platform on Biodiversity and Ecosystem Services (IPBES), up and walking. Frontiers of Biogeography 5:207-211. →Publication (Editorial)
---
Koetz, T., K. N. Farrell & P. Bridgewater (2012). Building better science-policy interfaces for international environmental governance: assessing potential within the Intergovernmental Platform for Biodiversity and Ecosystem Services. International Environmental Agreements-Politics Law and Economics 12:1-21. →Publication
---
Redford, K. H., C. Groves, R. A. Medellin & J. G. Robinson (2012). Conservation Stories, Conservation Science, and the Role of the Intergovernmental Platform on Biodiversity and Ecosystem Services. Conservation Biology 26:757-759. →Publication (Editorial)
---
Spierenburg, M. (2012). Getting the Message Across. Biodiverisity Science and Policy Interfaces - A Review. GAIA 21:125-134. →Publication
---
Briggs, S. V. & A. T. Knight (2011). Science-Policy Interface: Scientific Input Limited. Science 333:696-697. →Publication(Commentary)
---
Perrings, C., A. Duraiappah, A. Larigauderie & H. Mooney (2011). The Biodiversity and Ecosystem Services Science-Policy Interface. Science 331:1139-1140. →Publication (Policy Forum)
---
Görg, C., C. Neßhöver & A. Paulsch (2010). A New Link Between Biodiversity Science and Policy. GAIA 19:183-186. →Publication
---
Soberón, J. M. & J. K. Sarukhan (2010). A new mechanism for science-policy transfer and biodiversity governance? Environmental Conservation 36:265-267. →Publication
---
Van den Hove, S. & L. Chabason (2009). The Debate on an Intergovernmental Science-Policy Platform on Biodiversity and Ecosystem Services. IDDRI Working Papers No. 01/2009. →Artikel (Discussion Paper)
---
Mooney, H. & G. Mace (2009). Biodiversity Policy Challenges. Science 325:1474. →Publication (Editorial)
---
Loreau, M., A. Oteng-Yeboah, M. T. K. Arroyo, D. Babin, R. Barbault, M. Donoghue, M. Gadgil, C. Häuser, C. Heip, A. Larigauderie, K. Ma, G. Mace, H. A. Mooney, C. Perrings, P. Raven, J. Sarukhan, P. Schei, R. J. Scholes & R. T. Watson (2006). Diversity without representation. Nature 442:245-246. →Publication (Commentary)